A Traditional Tobacconist Shop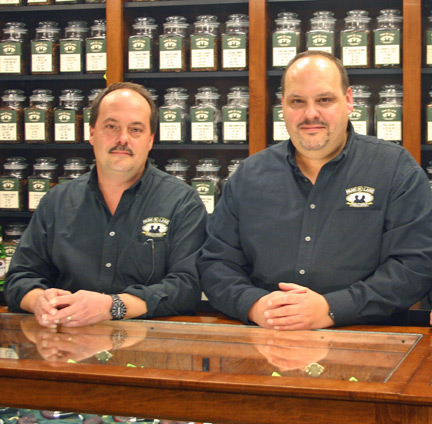 Our Story
At Park-Lane Tobacconist we seek to bring back the era of the full service tobacco shop and carry on in the tradition of legendary pipe and cigar men G.B. Park and J.M. Lane. Their likenesses grace our logo and their dedication to the pursuit of quality as purveyors of the finest cigars, pipes and tobacco is evident throughout the store.
Guided by this ambition, Paul Bonacquisti and brother John started Park-Lane in October 2005. They set out to create an inviting shop that would take the customer back to a time when quality and customer service were paramount. Paul, an award-winning pipe maker, uses his vast knowledge of the industry to bring the very best cigars and tobaccos to the customers of Park Lane. Together, the brothers built a friendly and inviting store offering a unique shopping experience. Always eager to welcome customers new and old to share in their passion of a fine cigar or pipe!
We hope you'll stop by Park-Lane Tobacconist in Clifton Park, and see what sets us apart from all the rest. Come in and experience a true tobacconist shop right here in upstate New York!
FINE SELECTION OF PIPES
The pipe department is presided over by award winning pipe maker Paul Bonacquisti, who brings his 25 years of pipe making and tobacco experience to Park-Lane. In addition to the pipes of Paul Bonacquisti, the store carries a huge selection of hand made pipes from around the world, with the artisans in most cases being personal friends with Paul. Pipe makers are a close fraternity, and Paul can always recall an amusing story or provide background information about his many friends in the pipe business. Being a student of pipes and tobacco and their history, Paul is also a font of knowledge about pipe making, pipe companies, and the pipe-collecting hobby in general.
Very few shops have a pipe maker on staff, and this is a big advantage when it comes to helping choose a pipe or get a newcomer started in the hobby. After all, who knows more about pipes than a pipe maker? Pipes and hand blended Tobacco are just as prominent in the store as Cigars, and the staff works very hard to ensure your satisfaction whether a beginner or a seasoned pipe aficionado.